Farmers Market Access Partnership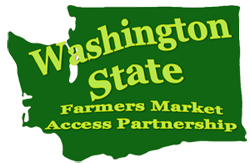 The Farmers Market Access Partnership (FMAP) is one of the ways WSFMA is leveraging collaborative relationships— among state agencies, regional nonprofits, local public health groups, and farmers markets—to increase access to good food through farmers markets. It provides streamlined information about participating in the Farmers Market Nutrition Program (FMNP) for WIC and Seniors, SNAP (Supplemental Nutrition Assistance Program, formerly known as "food stamps"), and other federal programs, and facilitates engagement in policy and implementation discussions regarding technology and food benefits.
For more information on the Farmers Market Access Partnership, click here.
Join the FMAP Newsletter:
To stay informed on all things food access at Washington State's Farmers Markets, sign up for our newsletter here.
The FMAP group holds quarterly meetings to address current policy and advocacy work relevant to WA Farmers Markets, as well as to hear from WSFMA's on-the-ground food access work via our Regional Leads. For more information about WSFMA's food access work and FMAP, contact us at info@wafarmersmarkets.org.