Find an EBT-Matching Market Near You
How Does It Work?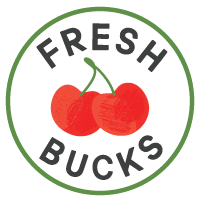 Families and individuals enrolled in SNAP (Supplemental Nutrition Assistance Program, formerly known as food stamps) can stretch their SNAP EBT dollars at participating farmers markets across Washington State-this means you can get more for your money when using SNAP EBT to shop for fresh fruits and veggies! Fresh Bucks is the largest EBT matching program in Washington state, but several markets fund their own EBT matching programs through local partnerships. These programs have names such as Gimme Five, Double Up Bucks, Fresh Match, and more.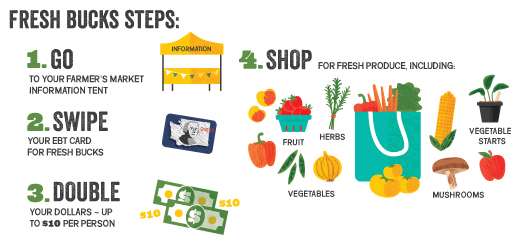 How Much is Matched?
Around the state, matches vary from market to market. Common matches include $2:$2, $2:$5, and $1:$1. For example, at some markets with a $2:$5 match, for every $5 spent in EBT, the market gives an additional $2 to spend on fresh produce. That's $7 for shopping with every $5 swiped on your EBT card! Not all programs are offered year round, but operate when funds are available to do so.
Questions?
To find out more about EBT-matching programs around Washington State, contact our Food Access Program Manager at kate@wafarmersmarkets.org.
Learn more about how to start a matching program at your market!