2017 Keynote
Erin Buckwalter on Partnerships for Promoting Farm and Market Tourism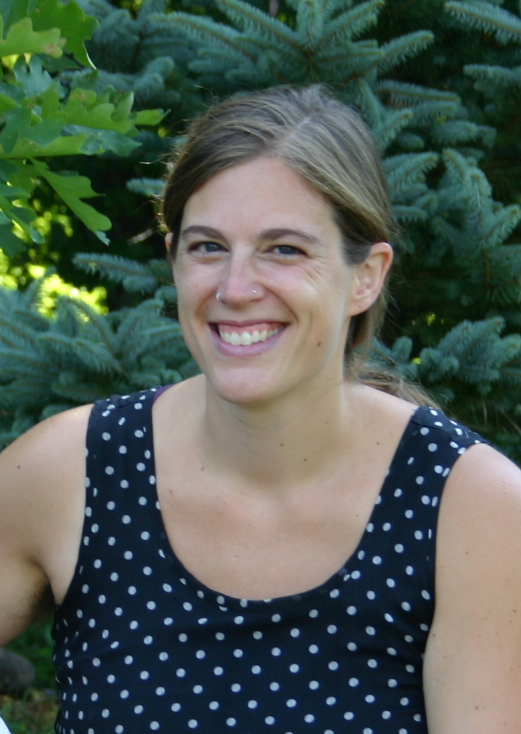 Erin Buckwalter is the Market Development Director for the Northeast Organic Farming Association of Vermont (NOFA-VT). Vermont has been a leader in creating partnerships to bring consumers out to farms and markets, with farm tours and food trails all over the state. Erin will address how Vermont's investment in agritourism benefits farms and markets. Erin has supported farmers markets and direct market farmers across Vermont since 2011, through programming, resource development and technical assistance. Erin Buckwalter coordinates the Vermont Farmers Market Association, for which NOFA-VT is the parent organization. Erin also oversees NOFA-VT's community food security programs to increase access for limited-income Vermonters to local foods.
Conference Speakers
Aba Kiser started in 2011 as a clerk at the Chimacum Corner Farmstand, Aba Kiser joined the Jefferson County Farmers Market team in 2012 as the Chimacum Farmers Market Manager. Her duties grew in 2015 when she took on the music program for all three Jefferson County markets. Now in her fourth season with the market, she has a neighboring job as the WSU Event Coordinator for the Jefferson County Farm Tour. When not organizing farm-related events she moonlights as a musician and producer under the moniker "Abakis". She is also the primary coordinator for the annual Cascadia Grains Conference.
Addie Candib has been working in sustainable agriculture in Washington State since 2008, as a farmer, organizer, advocate, and nonprofit professional. Addie currently works as Development Manager for Cloud Mountain Farm Center, a nonprofit agricultural education program located near Bellingham, WA. She served on the board of the West Olympia Farmers Market from 2011 to 2015, and currently serves on the board of Tilth Alliance. Addie holds a Master of Public Administration from the Evergreen State College.
Allison Colthorp is an accomplished Business & Marketing Director with over 20 years' experience working with the tourism sector. She has a proven track record of surpassing expectations in marketing and promotion of tourism projects and is skilled at forming partnerships with all levels of government, stakeholders and staff to create a positive and collaborative working relationship to meet challenges.

She currently is the Executive Director of Tourism Chilliwack and is responsible for developing and implementing the destination marketing plan for Chilliwack, managing Chilliwack Heritage Park and the Chilliwack Visitor Centre, and operating a Flag Shop franchise.
Amanda Argona is an AmeriCorps alum, having served two terms with the City of Moscow Farmers Market as their Volunteer and Outreach Coordinator. From 2013 to 2015, she worked with Market staff to identify areas of improvement, while also coordinating market surveys, volunteers, and programming. Her final project resulted in an 88 page report detailing historic data and metrics on the Market and was the catalyst for the 2016 Economic Impact Report. She is currently the Outreach Coordinator for the Palouse-Clearwater Environmental Institute in Moscow, Idaho.
Amanda Milholland is a Port Townsend, WA native and has worked in the nonprofit field as a health educator, program manager, volunteer coordinator, community development worker and development director since 2004. Amanda worked as a Peace Corps Volunteer in Uganda from 2006 through 2008 where she assisted a grassroots nonprofit organization with education, animal rearing and other community development projects. She is an avid home gardener with a strong commitment to personal and community connection with local food. Her favorite Fleetwood Mac song is "Dreams."
Andy Nguyen was born raised in Bellingham. He graduated from Bellingham technical college, where he studied Culinary Arts and Pastry. He is currently the Executive Chef/General Manager at Drizzle in Lynden, WA. Andy loves new farms and working with local farmers and vendors to source the freshest product available in season.
Anna Kitchin has been working with SNAP-Ed through various agencies in Washington since 2010. As Extension Coordinator for WSU King County Extension SNAP-Ed, she enjoys finding creative and powerful ways to increase access to healthy, local foods in South King County communities. Anna has been an avid farmers market fan since childhood, and is passionate about making markets welcoming to everyone, regardless of age, income, language, or background. Her favorite Fleetwood Mac song is "The Chain."
Bill Wavrin has been a large animal veterinarian and dairy farmer for thirty years. During that time, Bill and his brother Sid, along with their families have raised dairy cattle and the crops that feed them. The three-generation family farm decided to create a family brand of food and gain a closer connection to our consumers about seven years ago. A dairy farm was added in Ferndale, WA for this project in 2009 and the research for the idea began in earnest. Construction on the cheese plant began in 2013 and commission began in 2015 to develop recipes and learn to operate the plant. The family began selling its first cheese at farmers markets all over Western Washington in early 2016.
Brian Estes has worked on food and agriculture issues since 2008, including management of Catholic Charities Spokane's Food For All program, as well as time spent as the Washington Sustainable Food and Farming Network's eastern Washington farm-to-school coordinator. Brian is a steering committee member of the Spokane Food Policy Council, represents WSFMA on the Anti-Hunger & Nutrition Coalition and serves on the board of the South Perry Farmers Market. He is a lifelong eastern Washingtonian and has a hard time telling which way is north while doing advocacy in Olympia on account of all of the dang trees.
Caleb Johns is passionate about facilitating local entrepreneurial businesses to contribute to the community, create a vibrant local economy, and improve the health and sustainability of our world. With a foundation in International Studies and experience facilitating small-business development, he is now entering into his third year as the Vashon Farmers' Market manager where he has used his experience improving the systems, logistics, and profitability of small businesses to increase the professionalism, efficiency, and profits of his Vendors and of the Market as a whole. His special interests are communication and crisis resolution to establish a healthy relationship between venders, customers and the market manager, and encouraging the growth of Vashon's hyper-local movement.
Caprice Teske started her relationship with the Bellingham Farmers Market within a week of relocating to the Pacific Northwest in 2003. She has been involved with the Market as a volunteer, customer and board member. Since 2008, she has served as the Director. In this position, she considers her greatest impact to be helping farmers, producers and small businesses position themselves to compete in an ever-evolving marketplace. Teske is passionate about connecting customers directly to their food sources and educating community on the importance of maintaining healthy food systems. She has served on the WSFMA Board of Directors since 2012 and is currently board secretary. She has also served on the Whatcom Farm to School Advisory Board and the Whatcom Food Network Prior to her work with the Bellingham Farmers Market, Teske was a Program Director for the Whatcom Volunteer Center. Before relocating to Bellingham, she worked in a variety of positions overseas with the U.S. Antarctic Program. Her experience also includes catering and food services, corporate marketing, sales, public relations and event planning.
Carrie Olson has worked as the Renton Farmers Market Coordinator for the past five seasons. During this time she helped launch the EBT Token Program along with the Fresh Bucks incentive, and partnered with WSU Food $ense to help expand children's programming and cooking demonstrations at the market. She is constantly searching for new and innovative ways to engage market shoppers and vendors in social media, and manages the market's Facebook, Twitter and Instagram pages.
Cheryl Thornton along with her husband, Tom, owned and operated Cloud Mountain Farm as a family business for over 35 years. Cheryl managed all of the marketing for the farm which consisted mainly of direct market sales including restaurants, wholesale buyers including grocery stores and coops, and farmers markets. She still manages the marketing and distribution of products that the now non-profit Cloud Mountain Farm Center grows. New markets include the Puget Sound Food Hub and work with institutional buyers such as hospitals and universities as well as continued work with all the markets previously listed.
Chris Curtishas been organizing Farmers Markets in Seattle since 1993. Currently, she is the ED of the Neighborhood Farmers Markets; a Seattle based non-profit that is responsible for seven markets; U-District (1993), Columbia City (1998), West Seattle (1999), Lake City (2002), Magnolia (2003), Capitol Hill (2005) and Phinney (2007). These markets host over 500,000 shoppers a year and provide just under $10,000,000 in sales to farmers and vendors. Chris has sat on the boards of the WSFMA and the national Farmers Market Coalition. She has worked closely with the WSU Small Farm Team. Farmers Market Action Team and the WSDA Small Farm Advisory Committee on the issues that impact Farmers Markets and direct market farmers. She was an active member of the King County Agricultural Commission for 6 years and also a member of the Seattle Mayor's Small Business Task Force.
Christina Wong studied social work and policy at the University of Chicago and is a graduate of the University of Washington School of Law. She has over 20 years of experience as an advocate for social justice issues, including her work with survivors of interpersonal violence, disability rights, comprehensive immigration reform, and child welfare. Christina provides information and updates on food and nutrition issues and educates state and federal lawmakers about the needs of our clients in order to strengthen and restore our public safety net. She is also the Chair of the steering committee for the Anti-Hunger & Nutrition Coalition. She is a mother of two young girls and loves to cook, knit, and go camping.
Claire Lane has 20 years of nonprofit and social justice experience in Seattle. She has worked on food and hunger issues since 2007, focusing on state and federal policy advocacy. She is the director of the statewide Anti-Hunger & Nutrition Coalition, working closely with WSFMA, and recently served as the interim Fresh Bucks manager in Seattle's Office of Sustainability & Environment. She helped develop the Plan to End Childhood Hunger in Washington; is a founding member of the Good Food Coalition and the Washington Food Systems Roundtable, and has organized the annual Hunger Action Day in Olympia for many years.
Clayton Burrows, along with his team at Growing Washington, runs an 80 acre year-round organic farming operation located in Whatcom and Skagit Counties. The farm produces over 200 varieties of fruits, vegetables, greens, grains, herbs, legumes, value-added goods, and livestock. Growing Washington's products can be found at over a dozen farmers markets throughout the Puget Sound Region, through it's Local Choice Food Box CSA, and at regional restaurants, groceries, schools, and special events. He has been named Washington State Farmer of the Year by Tilth Producers of Washington. In addition to farming, Clayton has served as a representative for Washington farmers in Washington D.C., has taught agricultural courses at WSU, and has served on many boards and committees that directly relate to farmers markets, including being a board member of the WSFMA and the Bellingham Farmers Market.
Colleen Donovan coordinated farmers market projects for Washington State University and served as a WSFMA board member from 2010 to 2016. Research included a statewide survey of market managers and farm vendors; 14 Rapid Market Assessments; analysis of food access data; and vendor certification programs. Projects included working with Latino farmers; creating promotional graphics; and co-authoring the "Washington State Farmers Market Management Toolkit" with Karen Kinney. Colleen chaired the Farmers Market Action Team and served on the FMC Market Metrics Project Advisory Committee. Prior to 2010, Colleen partnered with farmers and local organizations to develop and fund community-based projects as the Pacific Northwest Program Manager of Heifer International. Colleen has a BS from Cal Poly San Luis Obispo; MA in Geography from the University of Washington.
Crystie Kisler lives and works at Finnriver Farm & Cidery in the Chimacum Valley on the Olympic Peninsula of Washington. She works with her partners and crew to grow Finnriver into a vibrant enterprise that showcases how rural economic development, ecological restoration and organic agriculture can all converge and thrive. Finnriver has renovated a historic dairy farm into a 50 acre destination orchard, research farm, cider garden and community gathering place— all protected by permanent conservation easements, certified organic and salmon safe. Finnriver is also a Certified B Corporation— joining the global movement to make business a force for good. Crystie's mission in life and at Finnriver is to help reconnect people to the land that sustains us!
Fred Berman has been an organic farmer and restauranteur for more than 27 years. After returning from Norway where he and his family began their farming career, Fred created and operated four unique food service businesses dedicated to supporting local farming enterprises through a farm to table commitment. In 2006, Fred began a career at WSDA as the Small Farm Program Coordinator for the Small Farm & Direct Marketing Program and in 2013 began working as a Project Manager at the Northwest Agriculture Business Center in Mt. Vernon, where he stayed until his retirement in 2016. Fred has served on the board of NABC, 21 Acres, Sustainable Connections, WSU CSANR, WSU Small Farm Team, the Advisory Committees of the Community Food Co-op Farm Fund and the Sustainable Connections Food and Farming Program. He currently serves on the board of the Cloud Mountain Farm Center and on the Lands Committee for WLT.
Holly O'Neill provides support for the development and planning efforts of cooperatives, non-profit organizations, government, and networks. She is a master facilitator with over twenty years of professional facilitation experience. Holly specializes in working with groups to create a healthy organizational culture. She provides trainings in consensus building, cooperative decision-making, member relations, and board role and responsibilities.

Holly's curriculum and tools are used by boards across the country, and she has led advanced board leadership seminars in California, Oregon, and Washington for over a decade. Holly mentored with Caroline Estes, and trained with John Carver (founder of Policy Governance).

Holly is passionate about local food systems and has launched and supported numerous networks and coalitions to advance food system development and address food insecurity.
Ivy Fox was raised on a family farm in Utah, and credits these experiences for bringing her here today. After receiving her B. A. in Agricultural Economics and Spanish from Smith College, Ivy moved to Seattle, WA and began working at local nonprofits. Noticing systemic patterns that lead to burnout and toxic work environments, Ivy returned to school and obtained her Masters of Arts in Organizational Development and Sustainability. Upon graduation, Ivy began working for the NFM and reconnecting with her farm background. For the past four seasons, she has been focusing on creating vibrant neighborhood farmers markets that are socially and environmentally responsible as well as FUN!
Jesse Hansen serves as the Regional Lead for the Washington State Farmers Market Association in the Columbia Basin, Greater Spokane, and Southeast Washington Regions and as the Food Systems Capacity Coordinator for Catholic Charities Spokane Food For All since June 2014. In 2015, Jesse helped create and implement the pilot for kids' activities called KERNEL (Kids Eating Right-Nutrition and Exercise For Life). During the day, Jesse advocates for food access and at night he spends time with his family while dreaming of a more just and equitable food system.
Jesse Hopkins farms at Colinwood, a Certified Organic farm, that has been growing a wide variety of mixed vegetables in the heart of Port Townsend since 1989. Extensive use of 6 large greenhouses with innovative energy efficient heating systems allow production year round. Colinwood sells at a number of Seattle markets as well as in PT. They also have a 24/7 year round farmstand on site.
Jessica Brierly received her Bachelor's in Nutrition and Food Science before moving from her home in Northern California to Moscow, Idaho. Currently, she is serving her second term as a fulltime National Service Volunteer with the Idaho Health Care for Children and Families, AmeriCorps –providing outreach to children and families, assisting with advocacy needs, and serving as a link between the community and the City of Moscow's Farmers Market. She is the Project Director of the High Five Passport Program which hosts opportunities for children to participate in produce tastings and cooking classes at the Market. I develop chef demonstrations with local chefs, plan community programs and events with local partners, and work with local Universities spreading the word around local foods, volunteerism, and the value of Farmers Markets.
John Gunning farms Colinwood, a Certified Organic farm, that has been growing a wide variety of mixed vegetables in the heart of Port Townsend since 1989. Extensive use of 6 large greenhouses with innovative energy efficient heating systems allow production year round. Colinwood sells at a number of Seattle markets as well as in PT. They also have a 24/7 year round farmstand on site.
Jon DeVaney has served as the President of the Washington State Tree Fruit Association since September of 2014, when the Association was established through the merger of four existing tree fruit industry organizations. In this capacity he oversees the Association's industry education, data collection and reporting, and state and local government relations activities.
Prior to this merger, he was the Executive Director of the Yakima Valley Growers-Shippers Association from November of 2009. Mr. DeVaney has an extensive background in agricultural policy and politics, having previously served as a long-time staff member for Congressman Doc Hastings, as Washington State Director of USDA Rural Development (2005-2009) and on the staff of the Northwest Horticultural Council. Mr. DeVaney has a B.A. from the University of Washington and an M.A. from Georgetown University.
Joshua Dirks has pioneered the "Listen, Create, Transform" process as Co-Founder, head scientist and CEO of Project Bionic. Josh's unique perspective comes from his extensive experience in both traditional and new media. With Project Bionic, Josh has helped diverse clients in the Pacific Northwest activate an inspired community to support their brand. He's a husband, father, geek at heart and new media thought-leader who's right on the cusp of Genx and Millennials. Josh is wise beyond his years, so get ready to laugh and learn.
Jordan Lowe is excited about working to build healthy food systems through community and education. He served as a Summer VISTA coordinating Fresh Bucks outreach with the Seattle Farmers Market Association and City of Seattle. Since then, he has worked with Pike Place Market's Farm Program, supporting their food access programming and coordinating cooking classes. He currently works for WSFMA and does community development work for a home-cooking company in Seattle. When he's not working he loves to cook, adventure, and play music.
Julian O'Reilley earned an MBA focused on Sustainability and Food Systems in 2009. She's worked for the Neighborhood Farmers Market Alliance since 2010 as Associate Director and Director of Operations. Prior to that, she worked in food manufacturing as a sustainability planner for Nature's Path Foods, founded an environmental organization for members of the lgbtq community, ran a catering kitchen, and served as a nonprofit manager for 10 years. She never gets tired of kale.
Karen Kinney is the Partnerships Director for WSFMA. For the past 19 years she has worked to connect Washington farmers and farmers markets in Seattle and around Washington state. She was a co-founder of the Columbia City Farmers Market in Seattle and the Neighborhood Farmers Markets which operate seven markets in Seattle. While working for King County's Ag Program, she helped farmers markets in south King County start accepting credit, debit and EBT cards and developed a statewide partnership program now called the Washington Farmers Market Access Partnership. The program became the model for the WSFMA's Regional Leads program that connects farmers markets with their community partners to expand opportunities for low income shoppers at farmers markets. She is a member of the Farmers Market Action Team, WSU Farm and Food Systems Team, Farmers Market Integrity Advisory Committee, Good Food Coalition and the Anti-Hunger & Nutrition Coalition. She co-authored with Colleen Donovan, the WA State Market Management Toolkit.
Karen Ullmann is part of the Regional Markets team at the Washington State Department of Agriculture and leads the Bridging the GAPs Project focused on helping farmers navigate mandatory regulations and voluntary certifications related to on-farm food safety. She provides trainings, resources and one-on-one assistance to farmers looking to meet Good Agricultural Practices (GAP) standards and prepare for the new FDA Food Safety Modernization Act (FSMA) Produce Rule. Karen is originally from New Jersey (a.k.a. "The Garden State") and is passionate about preserving community and supporting famers in growing quality, fresh food.
Kate Delavan is passionate about improving access to fresh, local food. Kate joined the Washington State Farmers Market Association in 2016. In her role as Food Access Program Manager, she works with farmers markets across the state to set up and sustain SNAP EBT, WIC and Senior FMNP, and nutrition incentive programs. She previously worked for American Farmland Trust as the PNW Policy & Planning Manager and the Interim Regional Director. Kate also has years of private sector experience working in sales for a natural consumer goods company. Kate holds a BS in Global Business from the University of Redlands and an MPA from the University of Washington.
Kathleen Burns is the Arts Director for the City of Moscow. One of the programs she supervises is the Moscow Farmers Market. As the oldest farmers market in the State of Idaho, it is also the first to accept EBT and the first in the State of Idaho to accept WIC and Senior FMNP checks. Another "first" for this market that is rated the number #1 market in the State of Idaho six consecutive years by American Farmland Trust!
Kathleen has been at the "helm" of the Moscow Farmers Market for ten years and has experienced its "doubling" in growth.
Katherine D. Flores is the WIC Farmers Market Nutrition Program Lead for Washington State at the Department of Health. She has worked through WSU on Nutrition projects with Hispanic communities in Washington and Idaho and with WSDA on projects to support risk management for farm workers. She has a degree in Nutrition from San Carlos University in Guatemala city. She was part of the National Association of Farmers Market Nutrition Program board Directors in 2015.
Kurt Tonnemaker and his family have been farming in Washington State for 113 years. The family farm is in Royal City (132 acres, 126 is certified organic) and in 2014, they started a 16-acre farm in Woodinville. They raise a wide variety of tree fruit, and vegetables. He has been direct marketing at farmers markets for 25 years. In 2016, Tonnemakers attended 8 farmers markets in the Puget Sound Region, and sold directly to over 100 restaurants over the course of the season, 21 Acres Farm Store, and wholesaled to fruit stands on the Olympic Peninsula, and a few local schools. During the 1980s-90s, the Tonnemakers converted more and more of their business from wholesale to direct retail to adapt to a changing market place!
Mike Finger, along with his wife, Kim, have owned and operated Cedarville Farm, a mixed crop organic operation, since 1989. Mike was a founding board member of the Bellingham Farmers Market and has served on the board and committees for many years. He is currently on the Farmers Market board, and also serves as President of the Puget Sound Food Hub Coop, a marketing, aggregation, and delivery enterprise serving small and mid-sized farms in North Puget Sound.
Patrice Barrentine has worked in the farm and food business sector in Washington for nearly twenty years. She has been a natural foods grocery buyer, worked for the Washington State Department of Agriculture, served on Governor Gregoire's Job Creation and Economic Development Subcabinet, and on the Washington Beer Commission. She has written or produced educational books, websites, video series, and radio shows for farmers, as well as travel itineraries, National Geographic maps, and TV shorts such as NW Backroads featuring the farms and foods of Washington.

Now with the King County Agriculture Program, she works on agriculture policy and economic development and has recently launched www.farmkingcounty.org an educational resource for farmers. She currently serves on the Pike Place Market PDA Council and is an advisor to WSFMA.
Rachael Reiton works as the Market Manager at the Community Farmers Market in Chehalis and has been a liaison between community, vendors, and customers for the past four years. Before becoming a farmer and raising dairy and pack goats, chickens and other poultry on Telegraph Farm in Winlock, WA, she had a career in Human Resources and Volunteer Management for non-profit and for-profit companies. She makes goat cheese, sells eggs, and is excited about expanding her farm business plan for 2017. She is a Regional Lead for the WSFMA, improving food access for Lewis County residents by creating beneficial relationships for the six farmers' markets located there.
Rita Ordóñez lives in the Skagit Valley with her husband, landscape painter, Ron Farrell, and their two children, Roland and Olivia. She has been a local food activist since 2004, working on healthy food access for low income families at farmers markets, schools and food banks across the State of Washington. Rita is currently a grant writer/consultant and FINI administrator for the Skagit Valley Farmers Market Coalition. Previous jobs include Coordinator for the WSU Farmers Market Wireless Technology Project and the Community Food Access Manager for Community Action of Skagit County. Rita has a BA in Geography from Western Washington University and a MA in Geography from the University of Washington.
Sara Southerland is the Food & Farming Manager at Sustainable Connections where she works with farmers, ranchers, restaurateurs, grocers, and food businesses of all kinds to connect, promote and build a strong local food system. She has been the lynchpin for many key programs including the Eat Local First Campaign, NW Chefs Collective, Demo Days at the Market, Farm Fresh CSA Fair, and Whatcom County Farm Tour. She received a degree from University of North Texas in journalism, and enjoys telling the story of local food and farming businesses. Food is the vehicle that drives Sara's inspiration – bringing all the right people together around a table, working with innovative social entrepreneurs, turning creative ideas into action, and facilitating good food for all.
Shane Laib is the manager of the Downtown Farmers Market in historic Downtown Walla Walla. He has been nearly a lifelong resident of the Walla Walla Valley, participated in 4-H and FFA, and works with several non-profit groups in the region. Shane's background includes retail sales, event planning, and public relations. He served on the Walla Walla City Council for eight years and served as a Legislative Aide to Senator Michael Baumgartner in 2013. In his spare time, he likes to spend time in his garden and participates in upcycling and vintage shows.
Sheri Muntean has worked as a Certified Public Accountant since 1991, with Price Waterhouse and Ernst & Young (EY), retiring as the National Tax Compliance Knowledge Manager for EY in 2000. In private practice since that time, Sheri has worked with the Anacortes Farmers Market for over 10 years, as well as the Skagit Valley Farmers Market Coalition, closely supporting the farmers markets within it.

Since 2011, Sheri started working with markets statewide as part of the WSU Farmers Market Wireless Technology Project, writing the manuals and developing the worksheets distributed as a best practice throughout the state, which are now being offered nationwide through the Farmers Market Coalition.
Sheryl Wiser is the Manager of Business Partnerships for Tilth Alliance (formerly Seattle Tilth) where she focuses on building empowerment and community through partnerships. Since 2009, she has also managed Puget Sound Fresh, one of the oldest agricultural marketing and consumer outreach programs in the U.S. and believes farmers markets are powerful champions for food equity and access.
Stacy Felure began working for Tonnemaker Family Orchard as a farmers market sales person while she was still in high school. A few years after graduating with a BA in Agriculture from Dordt College in Sioux Center, IA, Kurt hired her full-time to manage the direct sales arm of Tonnemakers in Western Washington. In 2016 she coordinated the restaurant sales, CSA, and ran the Redmond Saturday Market booth for Tonnemakers. She has been working in direct marketing at farmers markets for 17 years.
Stacy Carkonen joyfully joined the staff of the Tacoma Farmers Market (TFM) in March 2014. She is passionate about supporting and strengthening local farms, educating the community about protecting and preserving our agricultural lands and ensuring that locally grown and raised food is available to all of our community members regardless of income level.

Prior to joining TFM Stacy worked as Farm-to-Table Program Manager for Cascade Harvest Coalition, Director of Development for Community Involved in Sustaining Agriculture (CISA), National Field Director for Global Action for Children and Director of Global Grassroots Advocacy and Expansion for RESULTS and RESULTS Educational Fund.

She holds a B.A. in International Studies from the University of Idaho with an emphasis on political violence, revolutions, and economic development, and finished her degree at the University of Birzeit in Palestine. She also holds a Bachelor of Arts in Theatre and Music from Washington State University. Stacy brings a diversity of skills to the Tacoma Farmers Market table including organizing, fundraising, event management and general rabble rousing. She lives in Sumner with her husband and two children and is a proud board member of TB PhotoVoice and the Washington State Farmers Market Association.
If you would like to receive information about WSFMA and the 2017 conference Sign Up For Our Conference Newsletter!