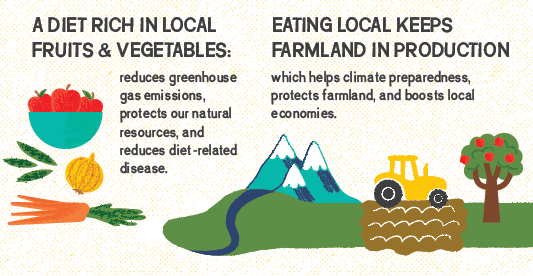 2016 Washington Legislative Session Priorities
Restore Funding for the Washington State Department of Agriculture's Small Farms Direct Marketing and Farm to School programs

UPDATE: No additional funding was allocated to the budget. Funding remains at $250,000 per biennium. These programs provide essential services to Washington's direct-marketing farmers who sell their products at farmers markets, to schools and other institutions, through a CSA or directly at their farm stand or to a grocery store. Staff help farmers navigate the rules and regulations for their particular business, provide training and education, and pilot innovative programming to connect farmers with sales opportunities and make sure everyone has access to the information they need. The funding was for these programs was eliminated in 2011 and has only been partially restored. WSFMA and many other organizations are asking the legislature to restore $250,000 to the two programs in this biennium.

Protect the State's Investments in the Farmers Market Nutrition Program (FMNP)

Update: Funding maintained at the same level.

Washington has supported innovative programs and proactive policies that help support Washington's family farmers and at the same time, fight hunger and poverty in communities across the state.  As lawmakers act to improve education, mental health services and more, it is critical that they protect existing funds for these programs which include the popular Farmers Market Nutrition Program (FMNP) that over 550 farmers and 125 farmers markets across the state participate in.

Monitor Legislation to Increase the Number of Wineries and Microbreweries that can Sample at Farmers Markets

Update: No action taken.  To be reintroduced at a later date.

Current law allows farmers markets to allow up to three wineries and/or microbreweries to sample their products at farmers markets at one time. There are large farmers markets in Washington State that have more demand by vendors than there is space for. These bills (SB6390 and HB2641) would increase the number of vendors who can sample their products to six.
For more information:
Karen Kinney
Executive Director
206-706-5198
karen@wafarmersmarkets.org
Brian Estes
WSFMA Advocacy Committee
509-521-0606
brian@wafarmersmarkets.com
Update February 2016