The state of our farmers market union is strong! Click here to read the report
In 2016 member markets had t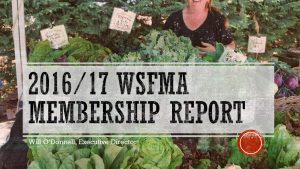 heir biggest sales increase in almost a decade and hit our highest annual sales ever: $47 million in member market sales. In 2016, 3.3 million shoppers attended our markets. Over a million dollars in food benefits redeemed at markets. Over 150,000 lbs of food donated to food banks from markets across the state. More markets than ever accept SNAP EBT & FMNP, as well as distribute Fresh Bucks. We have come a long way in 15 years. In 2002 we had approx. 72 member markets reporting  $17million in vendor sales. Now we have a 111 markets with $47million in sales. Sales have almost tripled.
In looking over some of the work the WSFMA has been doing to compile this report, there is a lot I am proud of. We pulled off one of our largest conferences ever, despite snow and cold, up in Blaine last February. We set up a new database system to track and report on member data, we designed printed and distributed fantastic new food access signage to markets across the state (and we still have more left), we piloted a series of info cards to support early season vegetables and produced our 38th annual statewide member market directory. And we've planned a new series of free day long intensive trainings for market organizers that we'll debut next winter, read the draft plan later in this report. We've been busy!
At the same time, our office, or rather our dynamic Partnerships Director Karen Kinney, has been working with state and local elected officials to support programs that benefit our markets. Karen has helped win passage of funding for the WSDA Regional Markets program as well as secured funding for Fresh Bucks in the City of Seattle Sugary Beverage Tax. Karen has made new and key alliances that will benefit all of our efforts going forward.
Karen, Kate, and I have been working to visit as many markets as we can all across the state. Because there are almost 160, (including 111 members) we can't get to everybody but we try. Getting out of the office to see our members both inspires and helps us do our work better. Thanks again for all you do, and thanks for being members. By joining the WSFMA, holding your org to higher standards, and reporting your data, you help set the standards both for what markets need to be and what they could be. Without the information you share, we wouldn't know how far we have come, and it would be much harder to figure out where we need to go. The future of direct farms and markets is bright in Washington State, thanks for being a shining light, in your community and collectively.
-Will O'Donnell
Executive Director, WSFMA